Sauce Gardner and Garrett Wilson push each other on and off the field
As first-round picks by the New York Jets in the 2022 NFL Draft, wide receiver Garrett Wilson and cornerback Sauce Gardner are setting records and achieving honors. Both won Rookie of the Year in 2022 for their respective sides of the ball. Garrett set franchise rookie records for receptions and receiving yards in a single season, naming him to the PFWA All-Rookie Team. Sauce led the NFL with 20 pass deflections, was selected for the 2023 Pro Bowl Games, and named a First-Team All-Pro, becoming the first rookie cornerback to receive the honor since Ronnie Lott in 1981.
Garrett and Sauce push each other to be better on and off the field, whether they're competing as teammates or using Microsoft Surface and Microsoft Teams to communicate, extract insights, and create game plans for the upcoming week. Surface Sideline Viewing System/Surface helps them on the field by gaining more insight into their opponent's plays, enabling them to make adjustments and achieve success during the game.
Microsoft Surface helps them organize their schedules, allowing time to give back to their communities—something they both value. Between games, Garrett prepares for and hosts a weekly radio show that runs through the season, and recently designed uniforms for a local high school. Sauce frequently connects with his family to continue developing his family foundation, which prioritizes education and is partnering with Microsoft to donate Surface devices.
The most prepared person always wins, the most prepared team always wins, and that starts with knowing your opponent and knowing what you're going up against.
Garrett Wilson
Wide Receiver, New York Jets
Talanoa Hufanga's key to success
Talanoa Hufanga is a starting safety for the San Francisco 49ers known for his ferocious style of play. He was selected to the 2023 Pro Bowl Games in just his second season in the NFL. His "T" celebration after big plays pays respect to Polynesian culture and honors the island of Tonga where his family is from. He throws his Ts to celebrate the people behind him, including his mentor Jesse Sapolu, four-time Super Bowl champion and co-founder of the Polynesian Football Hall of Fame (PFHOF).
Talanoa's schedule may be tight, but he knows how to make time for what matters on and off the field. The key to his success is preparation. Tracking his routine from breakfast to working out helps him know what works and what doesn't. Because the best ability is availability.
Honoring Polynesia's greatest
Talanoa's connection with PFHOF began in 2017 as a finalist for the High School Football Player of the Year Award. He won as an inaugural recipient, demonstrating exceptional ability and integrity. Since then, he's participated in the 2018 Polynesian Bowl, in which top high school players from around the world gather to celebrate their Polynesian heritage and play the game they love. Talanoa was recognized as the 2020 Polynesian College Football Co-Players of the Year. Most recently, Talanoa was named 2022 Polynesian Pro Football Defensive Player of the Year.
The PFHOF and 4th Family recently partnered with Microsoft to host a 2023 STEAM event for 70 students at the Boys and Girls Club Nanakuli. Students participated in a mock NFL combine which tested their strength, ability, and stamina. They learned how to interpret the data behind their scores using Microsoft Surface devices.
Students were delighted with a surprise visit from NFL Legends and co-founders of the PFHOF, Jesse Sapolu and Ma'a Tanuvasa, and future NFL stars participating in the Polynesian Bowl. As part of the event, Microsoft donated 60 Microsoft Surface devices to four Boys and Girls Club locations across O'ahu, helping bridge the digital divide and strengthen learning.
Polynesian Bowl
Microsoft is an official partner of the Polynesian Bowl, a premier high school football all-star game celebrating the world's top high school football players. The Polynesian Bowl was broadcast nationally on NFL Network, creating exposure for the Polynesian Football Hall of Fame and highlighting the connection between Polynesian culture and football.
Microsoft Surface provided devices for players throughout the week in the Players' Lounge. Offensive and Defensive Players of the Game were given Surface Pro 9s to kickstart their upcoming educational collegiate journey.
Tyler Lockett's big plays
As a wide receiver for the Seattle Seahawks, Tyler Lockett has become a franchise legend. In early December 2022 he set a Seahawks record for six straight games with a touchdown reception. He's garnered the second most touchdowns in club history, making him a hero among "The 12s" in Seattle. Big plays like his are called during the game but refined weeks in advance.
The grind is getting smarter with each passing season of the Microsoft and NFL partnership. Windows and Surface are giving clubs a new level of insight. From drawing up plays to annotating game film, Windows empowers players and coaches to collaborate, review, and reimagine faster than ever.
A shared desire for victory
The grind is getting smarter with each passing season of the Microsoft and NFL partnership.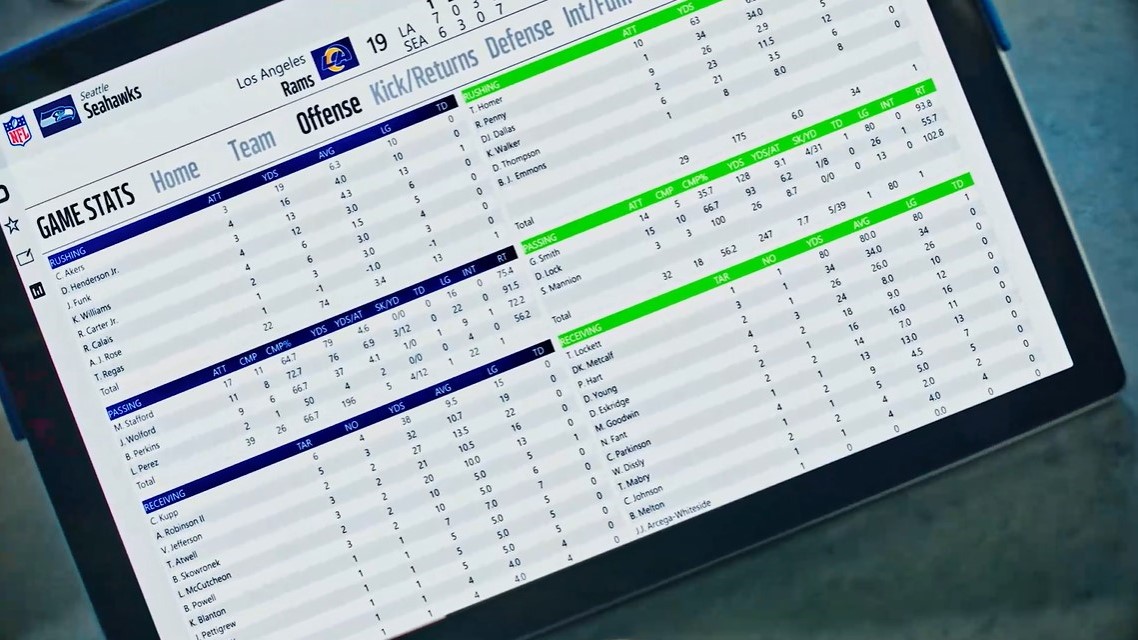 We are constantly looking for ways to make our technology available to help support and amplify the great work that players, clubs, and organizations are doing.
James Bernstrom
Director of Sports Partnerships, Microsoft
Opportunities for success
The NFL and Microsoft share a desire to achieve more with a partnership that doesn't just help athletes make plays. Technology is being made more accessible for students in underserved communities, creating opportunities for the next generation to succeed in any field, whether in football or STEAM.
For example, in Hawaii and across Polynesia, Microsoft, select NFL players, and the Polynesian Football Hall of Fame are supporting educational programs with donations of Surface devices. Microsoft also partners with NFL clubs to create learning opportunities for youth across science, technology, engineering, arts, and mathematics.