The pursuit of justice
Data transparency and access to insights lead to change in the justice system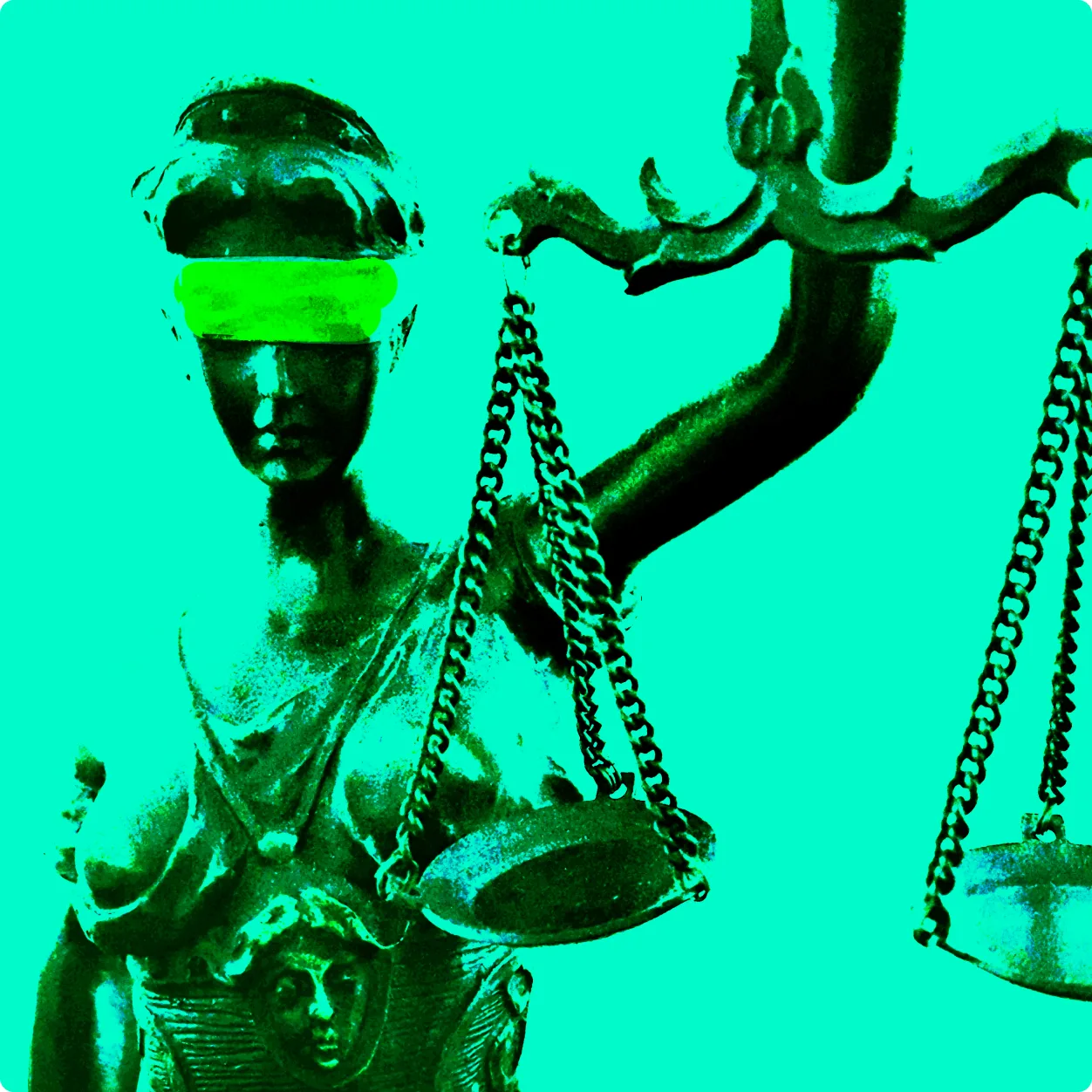 Nearly half of all people living in the United States have experienced incarceration in their family 1
Described by friends as a confident man who never gives up, Anthony Powers has made a positive difference in thousands of people's lives. His talent, energy, and heart have helped him fight and win countless battles for himself and others involved in the criminal legal system. From improving community understanding of sentencing data and standing up to inequity in the justice system, to helping improve the morale of those incarcerated, Anthony has made a lasting impact.
Anthony's decision to turn his life around while he was incarcerated has helped him get where he is today. His research into disparities in the justice system highlights issues around inequality in the criminal legal system, and poses fundamental questions about bias, fairness, and equity.
Understanding the system from the inside
At the age of 16, Anthony and his brother were involved in a robbery that led to the murder of an elderly woman. Anthony was encouraged by his defense attorney to take a 77-year plea agreement to avoid a life sentence in federal prison, but later learned this could have been avoided. His attorney had been dishonest, and was eventually disbarred for embezzlement.
While incarcerated, Anthony helped others perform research in the legal library for their cases that were on appeal. He noticed many had been incarcerated for similar conduct and charges but had received vastly different sentences. With help from family, Anthony was able to access case studies from universities, nonprofits, and government institutions that revealed what he suspected—broad racial disparities in the justice system. He asked himself why no one had used tech to find the root of these disparities to create a fairer system.
I thought this can't be what it looks like. It was hard to accept, hard to believe. Everybody knows about it, but nothing is being done.
Anthony Powers
Executive Director, American Equity and Justice Group
Bias in the justice system can exist because of someone's race, ethnicity, or gender, stemming from stereotypes or criminalization of individuals because of their family history or race.
Over-policing, excessive use of force, and disproportionately harsh punishments are well-documented throughout communities of color and among those who are living in poverty or people living with mental health conditions. According to the US Bureau of Justice Statistics, Black and African Americans are more likely than white Americans to be arrested, convicted, and given lengthy prison sentences. Black and African American adults are 5.9 times more likely to be incarcerated than whites. 2
To better understand data from the Department of Corrections, Anthony recognized he needed additional technical expertise to measure the disparities referenced in the studies. He also wanted to give the public better access to these insights.
Every data point is a life, someone with a name and a family who belongs to a community.
Publicly available data and data sharing isn't widely available in the justice system. Increased access to data, insights and powerful analytics tools can foster more informed community conversations about justice reform, improve transparency and help agencies measure progress towards change. By leveraging technology to enable analysis and visualizations, the goal is to enable users to better understand trends, generate insights, and inform policy and practice change.
Change the conversation, change the population
During his sentence in 2009, Anthony co-founded the Redemption Project, a successful behavioral health program to create a better environment in prison to "change the conversation, change the population." He taught and mentored over 2,000 inmates. His gift for rallying people for the better created highly effective solutions that helped reduce prison violence in prisons across Washington state.
In 2019, through pro bono counsel from Seattle Clemency Project—a nonprofit that helps provide legal assistance for incarcerated people seeking clemency—Anthony was granted an early release. He was then offered a job as the first Reentry Coordinator for the Seattle Clemency Project, which he accepted. At Seattle Clemency, Anthony established a successful reentry system and became the Reentry Program Director. During this time, Anthony also began pursuing his dream of creating a way to use technology to highlight disparities in the justice system.
Since 2018, the Pro Bono Program at Microsoft has been supporting the Seattle Clemency Project. During a pro bono workshop in 2019, Anthony was invited to Microsoft to discuss his vision for technology and share the sentencing data he was collecting. Following the discussion, Microsoft employees wanted to find ways to support his objective and get involved.
Hack the Future
Just two weeks later, a team of more than 30 Microsoft volunteers came together to create the database prototype Anthony envisioned. And over the next three years, teams joined the Microsoft Garage Global Hackathon to develop and refine the American Equity and Justice Group (AEJG)Dashboard.
We had access to so many wonderful professionals far beyond Microsoft. The response was amazing.
Jacquelyn Krones
Vice President, American Equity and Justice Group
Their first step was identifying and accessing the correct data. From there, the dashboard had to display data in an interactive way that could help users make educated decisions. The goal wasn't to interpret the data, but allow users to change filters to see sentencing and conviction data compared to census data.
The prototype integrated 20 years of Washington state adult felony sentencing data from the Caseload Forecast Council (CFC), with the goal of including other states in future updates. The team used Microsoft AI capabilities like Azure SQL, App Service, and Azure as the toolset.
With a functioning real-time dashboard in place, assistance from universities and government agencies grew, enabling better insight into decisions made throughout the lifecycle of a case.
The team then improved the usability of the dashboard by enriching the experience with insights. And they added the functionality of Power BI to natively perform statistical tests.
Better data transparency through tech
Although AEJG feels like they're just getting started as a nonprofit, they're becoming a valuable resource in the community. In State v. Blake, the Washington Supreme Court struck down Washington's drug possession statute as unconstitutional, thereby invalidating thousands of convictions dating back decades. In her concurring opinion, Chief Justice Debra Stephens wrote "[t]he fact of racial and ethnic disproportionality in our criminal justice system is indisputable." 3 Following that, legislators, judges, lawyers, and impacted individuals used the AEJG dashboard to identify cases influenced by the decision, or the disproportionality it recognized. 4
A statistical analysis by University of Washington sociologists, showed that juries were about four times more likely to sentence Black defendants to death, 5 which led to the Washington State Supreme Court abolishing the death penalty on the grounds that it was unconstitutional. 6  "That shows the power of data to change minds or influence the way people understand a situation at a high level. We want everyone to be able to access data [like that used in this statistical analysis] to help answer questions they have," says Kim Gordon.
If we truly want to do the most good for the most people, then those who are involved in this fast-paced system should stop and reflect on how their choices may be contributing to inequity. 
Kim Gordon
President, American Equity and Justice Group
Anthony hopes that dashboard engagement and data analysis will lead to changes in laws and policies by enabling a deeper look into disparities at various points throughout the justice system to ensure defendants and victims are treated fairly, and that decision-makers are appropriately evaluating how their choices affect individual people and communities. He continues to work as the Executive Director and board member of AEJG, and Reentry Program Director of the Seattle Clemency Project, helping previously incarcerated people build successful lives after they're released from prison.
Since the initial Hackathon in 2020, members of the original AEJG Hackathon team have continued to come together during the annual Microsoft Global Hackathon winning the Hack for Justice Reform Challenge in 2021 and 2022 and the Hack for Society Executive Challenge in 2021. In 2022, the Microsoft Justice Reform Initiative also provided funding to AEJG to support launch events across the country as well as the development of education and training materials to help expand the reach of the tool and allow for self-service use.
Today, AEJG is securing more funding and is close to achieving 501(c)(3) status. Policy makers, academics, and advocacy groups agree that the data transparency AEJG provides is necessary to achieving justice system reform. As AEJG continues to champion change across many local communities, they'll be adding more data to the dashboard, advising other states on how to build similar dashboards and working to improve community understanding of justice system functions and terminology.
Strengthening communities through action
Microsoft is deepening our commitment to addressing racial injustice and inequity experienced by Black and African Americans in the US. Through the Racial Equity Initiative, we're making progress toward meaningful and sustainable transformations that affect individual, culture and systemic change in and outside of the company.